2019年08月05日
Islands
Simple English
An Afternoon on Shishijima Island (Simple English)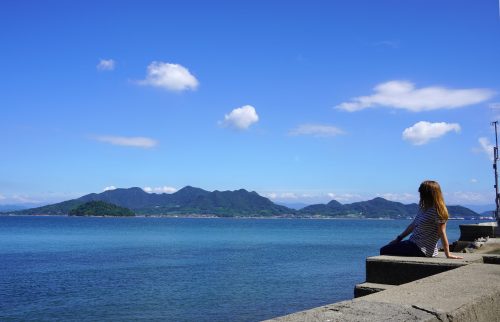 Living in the Setouchi is perfect for me. Since I was a child, I have always loved the ocean. But, I loved the mountains too. I wondered, "where do I want to live?" In the US, most places have either mountains or beaches, but not both. That's why I'm so lucky to live in Mitoyo. There are both mountains and beaches.
I was really excited to visit the Setouchi islands. Maybe you already know the reason why. It has many things I enjoy. First, you can ride a ferry. Then, you are on an island. Both of these are great. Also, many islands have mountains. So, you can go hiking and look out over the Setouchi.
Recently, I visited Shishijima Island. It's one of the Setouchi's small, inhabited islands, so I wanted to tell you about it.
Traveling to the Island
There are 2 ports that will take you to Shishijima Island, but we decided to use Miyanoshita Port. Not only was it more conveniently located, but it's also closer to the island.
Miyanoshita Port has a small pier where the ferry to Shishijima Island stops. It's close to the local community center, called Marine Wave. English information is not available at the pier. There are only a few ferries each day, so you should
check the ferry timetable
before you go.
You can't buy tickets at the port. Instead, you have to buy tickets on the ferry! There is a ticket vending machine on the boat. There is no English here, either. However, the staff were very friendly. I think they will help anyone who is lost.
Now, relax! You can enjoy a 20-minute ferry ride to Shishijima Island. I recommend staying on deck – the sea spray and the view are an important part of the experience.
The Island's Silent Protector
Okusu is a little far away from Shishijima Port. You have to walk through many small streets and follow a hard-to-find hiking trail. Follow these turtle signs to Okusu!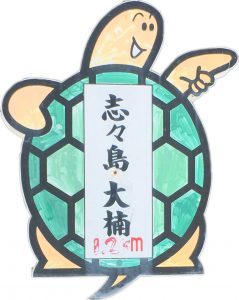 The hike was steep and it was hot, so the hike was a lot more difficult than I expected. Still, there was plenty of shade, and we took some breaks, so it was fine. Soon we arrived at Okusu. We came at the perfect time of year. There were hundreds of lilies around the tree!
For a long time, I thought "Okusu" was the tree's name, but I learned that it means "big camphor tree." I think it's a little funny, but maybe it only sounds strange when you change the name to English.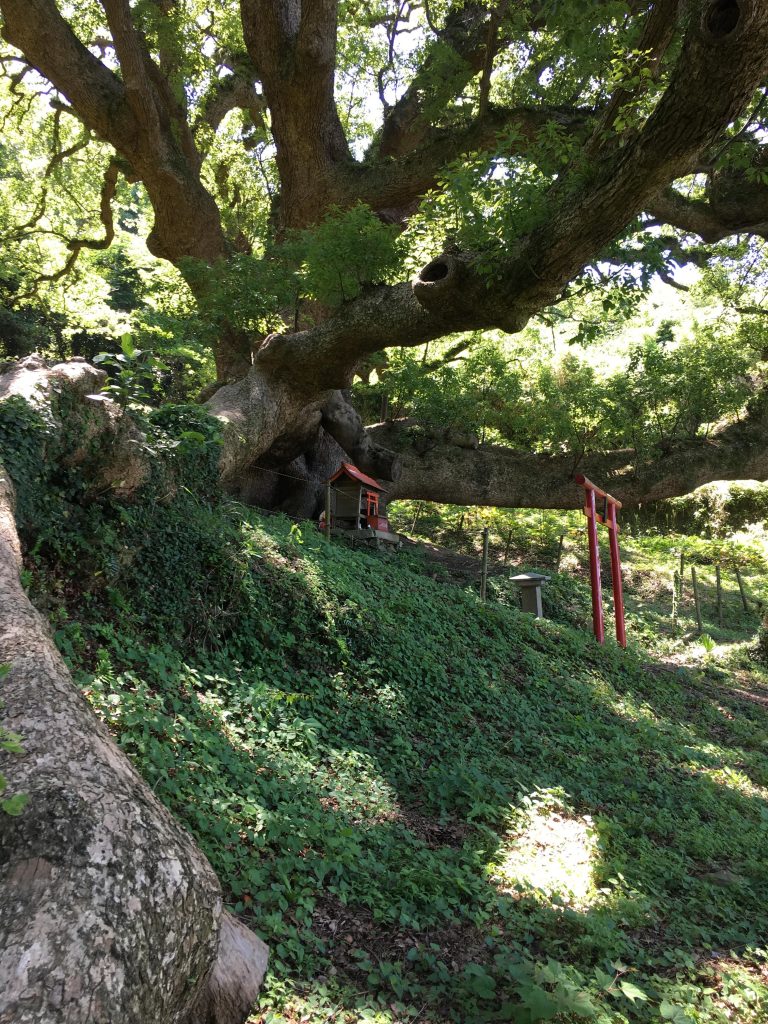 Oh, and also there were so many mosquitoes. I didn't put on enough bug spray, so…
Taking a Break at the Lookout Point
After hiking to Okusu and taking pictures, we were tired. Luckily, we knew the perfect place to take a break.
The path up was steep, and muddy. When we arrived, we were very hot again. But, we could rest in a cute hut with a great view!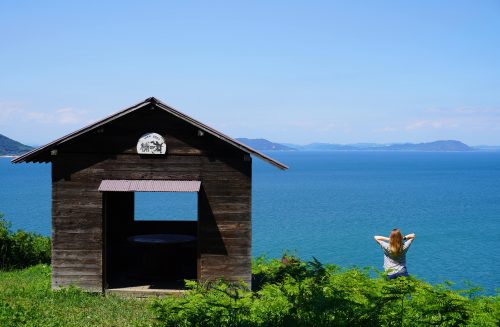 After we took a break at Camphor Overlook, we wanted to visit some VIPs.
Island Idols
I didn't know that goats are cute before I went to Shishijima Island. There were a few baby goats, and they were very cute! They keep the island neat by eating the grass. They are very hard workers!
Learn English Vocabulary
look out over ~: ~を展望する
I looked out over the city from Tokyo Sky Tree.
東京スカイツリーから市を展望しました。
inhabited (by ~): 有人の、生き物がまだそこに住んでいる
The house is old, but it is still inhabited by a few people.
その家は古いですが、まだ数人がそこに住んでいます。
conveniently located: 便利な場所にある
Convenience stores should always be built in a convenient location.
コンビ二は便利な場所に建つべきです。
pier: 残橋
They went fishing on the pier.
彼らは残橋で釣りに行きました。
instead: 代わりに
I don't want to go to the park. Let's go to the beach instead.
公園には行きたくない。代わりに浜辺に行きましょう。
ticket vending machine: 自動券売機
We bought the ferry tickets from a ticket vending machine.
フェリーのチケットは自動券売機で買いました。
on deck: 甲板で
Everyone stood on deck and looked at the ocean.
皆が甲板で立って海を見ました。
sea spray: 波しぶき
The cool sea spray hit her face when she drove the motorboat.
モーターボートを運転したと、涼しい波しぶきが顔に当たりました。
hard-to-find: 見つけにくい
The store is in a hard-to-find place behind the shopping mall.
お店はショッピングモールの後ろで見つけにくいところにあります。
steep: 険しい
The path is steep and it's easy to slip, so please be careful!
道が険しく滑りやすいので、気を付けてください。
plenty: 十分な
We have plenty of food. Help yourself.
食べ物は十分あります。ご自由にどうぞ。
shade: 木か他の大きいものが作る陰(休めそうな陰)
We took a break in the shade of a large tree.
大きい木の陰で休みなした。
lilies (単数: lily): ユリ
He bought a bouquet of lilies.
彼はユリの花束を買いました。
muddy: 泥だらけ、泥がいっぱい
My dog's paws were muddy after we walked in the park.
公園を散歩した後、犬の足は泥だらけでした。
hut: 小屋
The rest spot is a small hut at the top of a hill.
休憩所は坂の上にある小さい小屋です。
neat: きれい(美しさと関係なく、整えた感じ)
Not everyone is beautiful, but anyone can be neat.
皆は美しいにならないが、だれでもきれいになれます。