2019年08月01日
Islands
Natural English
An Afternoon on Shishijima Island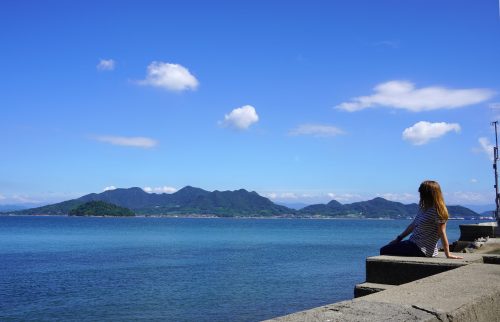 For me, the Setouchi is a dream location. I've always been torn between my love of mountains and my love of the ocean. How do you choose where to live when you can't imagine settling without one of those things? Well, I hit the jackpot big time coming to Mitoyo. There're mountains, there's ocean, there're mountains IN the ocean. It's perfect.
Given that, I think you'll understand why I get so excited to visit the Setouchi's islands. Getting there, you get to ride a ferry (Nice!), then you get to be on an island (Nice!!), then on most of the islands there's some kind of mountain to climb (Nice!!!) and finally there's always a great view of the Setouchi, usually from the top of said mountain (Nice!!!!).
Recently, I got to visit Shishijima Island – one of the Setouchi's smaller inhabited islands – and thought I'd share the experience.
Getting There
There are actually 2 ports that will take you to Shishijima Island, but we opted for Miyanoshita Port. Not only was it more conveniently located, but it also makes for a significantly shorter ride to the island.
Miyanoshita Port is pretty much 90% private boat moorings, but there is a small jetty where the ferry to Shishijima Island stops. It's close to the local community center, called Marine Wave, and has no English signage whatsoever! There are only a few ferries each day, so check the ferry timetable here to know when to show up.
There's no ticket booth or any staff posted at the jetty, so we had to buy tickets from the vending machine on the boat! No surprises here, but there's only Japanese. The boat workers were friendly enough though that I'm sure they'd help if you're not sure which one to choose!
Now a 20-minute ferry ride is all that's standing (well, metaphorically standing) between you and Shishijima Island! I recommend staying on deck for the duration of the ride- the sea spray and the islands going by are a crucial part of the island visiting experience.
(I don't want to devote half this post to specifics about getting to the island, so check out this page if you want more detailed information about how to get to Shishijima Island and other places in Mitoyo.)
The Island's Silent Guardian
Our first stop on the island was to see Okusu. After all, one must pay respects.

Like most places worth going, Okusu can be difficult to find. It's situated quite a bit back from the main port area, through a maze of small streets and up an out-of-the-way hiking trail, but luckily there are some signs like this cute turtle guy that you can follow to find it.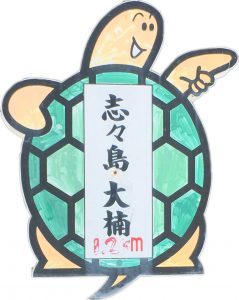 The walk was pretty steep and in the summer heat it was a lot more difficult than I expected. Still, it was mostly shady and we had this prime rest spot about halfway up! After what felt like 500 stairs (ok maybe there were actually only about 50) and a short descent down the other side of the mountain, we were there, at Okusu itself. And we got there at the perfect time of year. All the lilies surrounding the base of the tree were in bloom~
For a long time after I moved to the area, I thought "Okusu" was the tree's name, but actually O means "big" or "great" and kusu means "camphor." So basically everyone's just going around calling it "that big ol' camphor tree." Not quite as majestic a name as the tree itself suggests, perhaps.
Oh, and did I mention there were a ton of mosquitoes? There were a ton of mosquitoes and I wasn't thorough enough when applying my own bug spray so…
Camphor Overlook
After hiking all the way up to Okusu and running circles around it taking pictures, I know I wasn't the only one who was ready to take a break. Luckily, we knew the perfect place to go for a break.
The path up was steep, and muddy, and more than a little bit slippery. Any cooling down we might have done in the shade of Okusu was thoroughly undone. But a cute little rest hut with a great view was waiting for us at the top!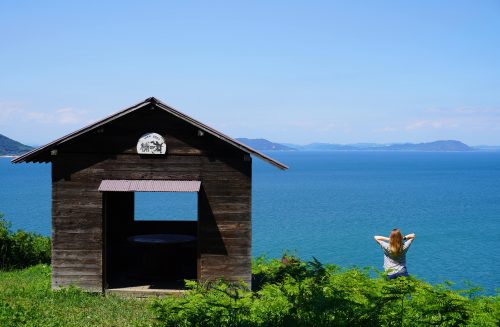 It turns out there was another path to Camphor Overlook that diverged from the path to Okusu that was paved and not even a little bit muddy. But I suppose that would have taken some of the adventure out of it. After a quick (or maybe not-so-quick) break, we headed back along that path to the port area to pay a visit to some island VIPs (Very Important Pets).
Island Idols
I don't think you could have convinced me that goats were cute if I hadn't met the cute baby goats on Shishijima Island myself. I can now assure you with absolute certainty that baby goats are extremely cute.
Learn Japanese
Miyanoshita Port (mia-no-shtah) – 宮の下(みやのした)
Another place name. 宮 typically means either palace or temple, and 下 means "down" or "below." Connect them with の as an "of," and presumably the name means something akin to "the port below the palace/temple." There are no palaces or temples in the immediate vicinity of the port currently, so it'd be hard to say which the 宮 is meant to refer to.
Okusu (ohh-ku-su) – 大楠(おおくす)
Literally "large camphor;" I promise it sounds better as the name of something in Japanese than it does in English.
Setouchi (seh-toh oo-chi) – 瀬戸内(せとうち)
An abbreviated form of the Japanese name for the Seto Inland Sea. It's proper name is the Seto Naikai (seh-toh nai-kai 瀬戸内海)
Shishijima Island (she-she-jima) – 志々島(ししじま)
As a place name, it's really hard to define the meaning. 島 means island. Here's a link to info about meaning of the 志 kanji. Your guess is as good as mine.
Tenboudai (ten-bo-die) – 展望台(てんぼうだい)
Lookout point, overlook, observation deck. All of these things are tenboudai.
Kanren Kiji (khan-ren kee-jee) – 関連記事(かんれんきじ)
Related Articles (↓scroll down↓)