Parking for Kamo no Koshi & Maruyamajima Island
Parking for Kamo no Koshi and Maruyamajima Island is available thanks to the kindness and cooperation of the locals.
Parking overnight or for extended periods of time is not permitted.
The city is not responsible for any incidents in the parking lot.
Roadside parking is not permitted at any time.
Please be considerate.
Look for this sign to know where to park: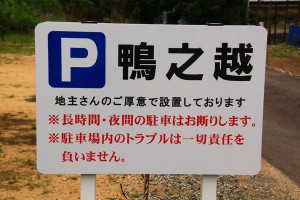 Copyright © 2018 三豊市観光交流局. All Rights Reserved.