Tsutajima Island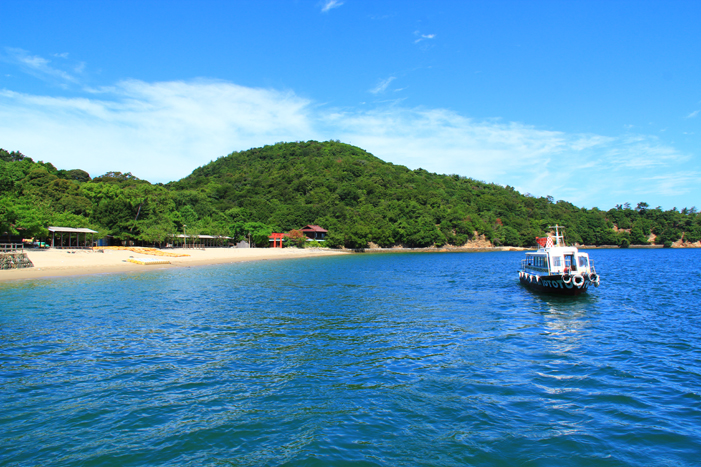 The Nio harbor area is home to both Great Tsutajima Island and Little Tsutajima Island. Together, the two are referred to as just "Tsutajima Island." These islands are located just 7 minutes from the mainland, but are completely uninhabited. From April through October, you can visit to enjoy the swimming area, campsite, and beautiful nature that abounds there.
Address
Tsutajima, Nio-cho, Mitoyo, Kagawa
Phone
General Inquiries: 0875-82-9003 (Nio Marina)
Camping reservations (Jun, Aug only): 0875-82-2404 (Tsutajima Island Affairs Office)
Ferry Information (Apr – Sept): 0875-82-2102 (Tsutajima Ferry Office)
Ferry
Times
First Ferry: 8:30
Last Ferry: 16:45
No service on Tuesdays, except during July & Aug.
Ferries are not scheduled, but run as needed.
Fare
Information
Adults: ¥400
Children(6-12): ¥200
Luggage Service(up to 30kg): ¥400 per piece
Campsite
Information
The swimming area and campsite are available for use from July 1st – August 31st.
Pavilions, showers, and toilets are available by the swimming area.
Tents are available to rent. Please reserve in advance so the staff can help with setup.
Personal tents can be used for a ¥1000 site usage fee.
Additional camping supplies and equipment is available to rent.
Available
Facilities &
Equipment
【Pavilions】 Weekdays: ¥1000, ¥500 after 2pm  Weekends/Holidays: ¥1500, ¥1000 after 2pm
【5-Person Tent】Weekdays: ¥2000  Weekends/Holidays:¥2500
【Personal Tent Site】¥1000
【Rush Mat & Blanket】¥500
【Cooking Utensils】¥300
【Cooking Pot】¥300
【Kettle】¥300
【Frying Pan】¥300
【Gas Stove】¥1000
【BBQ Grill Set】¥1700 ※Doesn't include food
【Knife & Cutting Board】¥300
【Dishware】¥30
【Charcoal (3kg)】¥700
【Electric Lantern】¥700
【Showers】Free (toiletries not included)
※Prices and available equipment may change. Inquire at Nio Marina for up to date information.
Additional
Information
※Tsutajima is uninhabited and has no electrical appliances.
※Barbecue supplies can be rented, but no ingredients are available. Please bring your own food with you.
※From July 1st – Aug. 31st cup noodles and bottled drinks can be purchased on the island courtesy of the Tsutajima Affairs Office.
※Trashcans are not available on the island. Please remove all garbage.
※Ferries are not available outside of operating hours.
※The lodge on the island is no longer in operation.