About Us
Company Profile
Name
Mitoyo Tourism and Exchange Authority
Chairperson
YAMASHITA Akishi
Address
1642-2 Massaki, Takuma-cho, Mitoyo, Kagawa, JAPAN 769-1102
Phone
(+81) 0875-56-5880
Fax
0875-83-7011
Email
info@mitoyo.org
Founded
March 16, 2017
Closed
Tuesdays and New Years (12/29-1/3)
Purpose
To create a unique character in the culture, society, and economy of Mitoyo.
To invite visitors from within Japan and abroad, and to help them engage with local products.
To develop and promote tourism operations in conjunction with international outreach, and to foster multiculturalism within the community.
Operations
Tourist Information, dissemination of information, operation of a tourist information center, promotion of tourism, development of relevant products, administration of Mt. Shiude grounds and museum/cafe, other
Company
History
・03/16/2017: The Mitoyo Tourism and Exchange Authority is established.
・04/01/2017: The Mitoyo Tourism Association and the Mitoyo International Association consolidate and begin operations.
・12/25/2017: Yamashita Akishi becomes the new chairperson.
・09/25/2019: The office is relocates beside JR Takuma Station.
Partnership Fee
・¥10,000 per year
Learn more about becoming a partner.
Connecting Travelers with Mitoyo
The Mitoyo Tourism and Exchange Authority promotes tourism in Mitoyo and plays a central role in promoting tourism policies toward the realization of sustainable and community-based tourist destinations and community development.
Mitoyo, Kagawa is rich in nature and charm. The Mitoyo Tourism and Exchange Authority shares the things about the town that the locals are proud of, the things they have come to realize are important, and the things that make them think "I'm glad to have been born here and to live here" with the world.
[Operations]
On-Site Tourist Information
In order to provide quick and convenient information to visitors, the Mitoyo Tourism and Exchange Authority operates a tourist information center next to JR Takuma Station. English-speaking staff are available to provide assistance or rental services.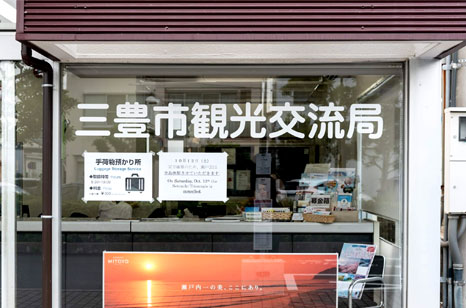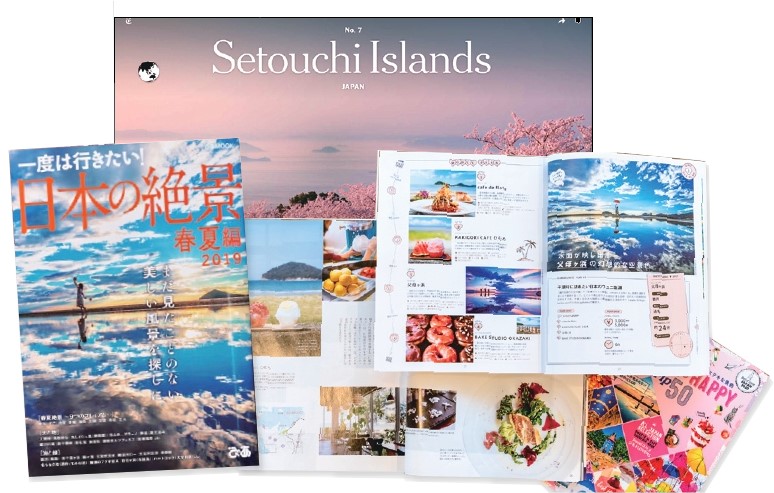 Media Liaisons
The Mitoyo Tourism and Exchange Authority works to disseminate information not only directly to visitors, but also to various media outlets that will make the information available easily to the wider public. Introductions to tourist spots, local shops, guest accommodations- anything a potential visitor could want to know!
Official Website
Accessed by people from more than 100 countries worldwide! The Mitoyo Tourism and Exchange Authority website in built with the intention to not only promote Mitoyo's beautiful sights and vistas, but also as a venue to sell local goods.
Website traffic from around the world has been increasing, especially by those looking to visit Chichibugahama Beach and Mt. Shiude.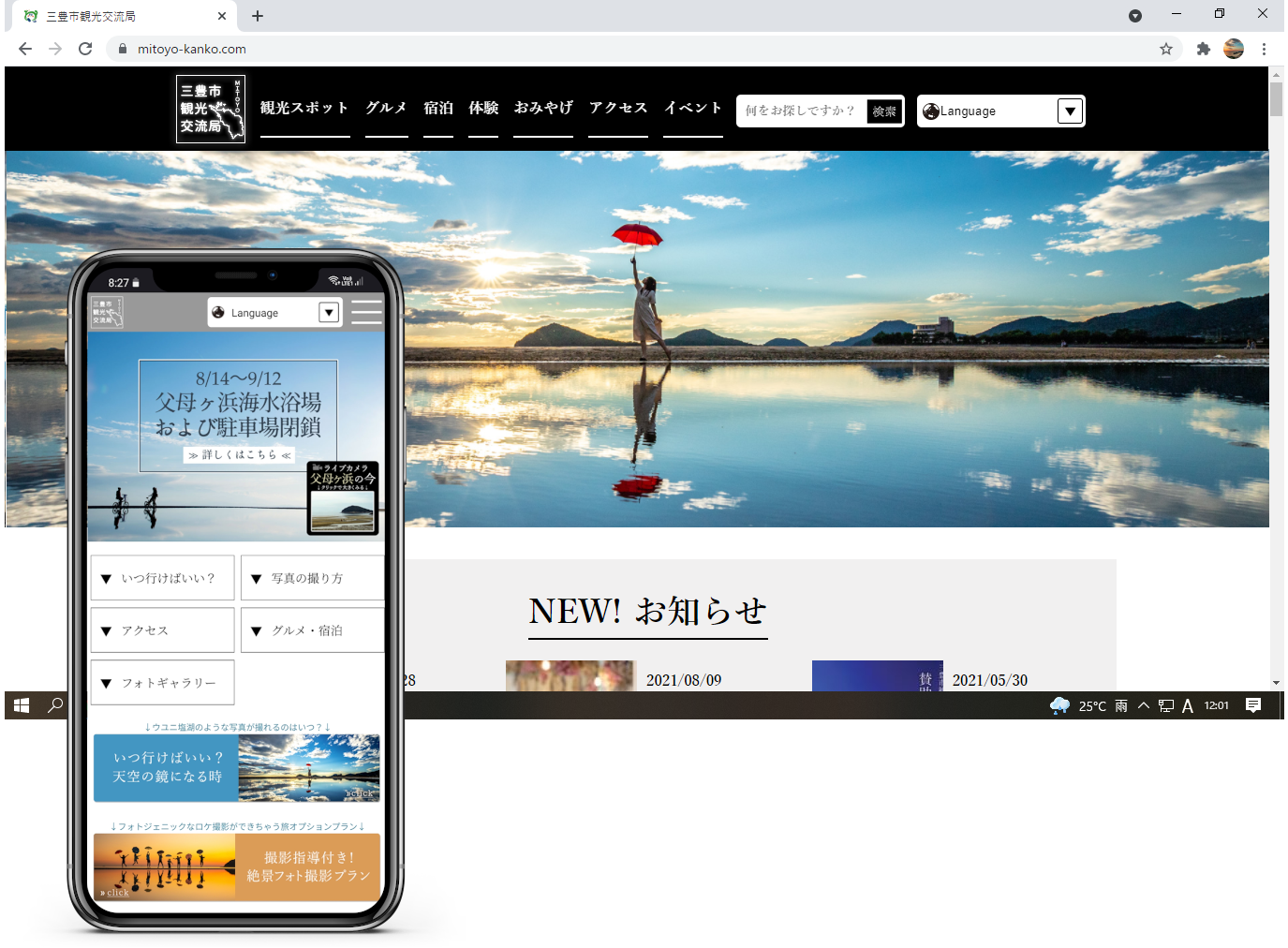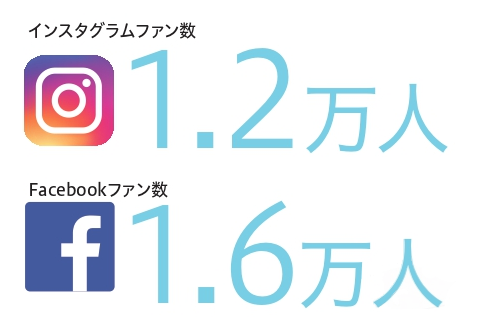 Social Media
Beautiful photos to show Mitoyo in its best light. Regular updates on local information for both residents and visitors.
Introducing Mitoyo's Natural Beauty to the World
The Mitoyo Tourism and Exchange Authority works to not only promote Mitoyo as a tourist destination, but also to further a local sense of identity among residents.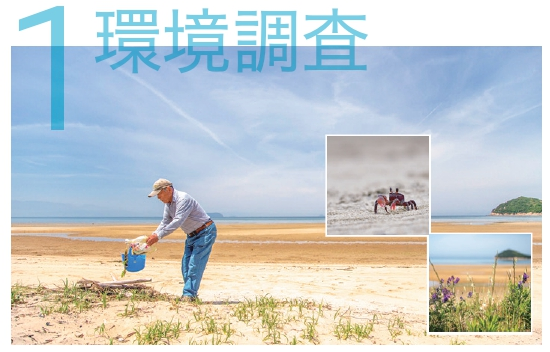 1 Environmental Studies
Chichibugahama Beach is home to a wide variety of marine life. The Mitoyo Tourism and Exchange Authority has begun conducting studies on the state of the seaside throughout the year. These studies will be used to create informational signs to educate the public.

[Chichibugahama Beach]Previously deserted for days on end, Chichibugahama Beach has been gaining attention on social media since 2017. In the 1990s, Chichibugahama was slated for development, but a group of locals began cleaning and protecting the beach for the use of future generations. This group of volunteers has continued to clean the beach, even now that plans for development have been abandoned.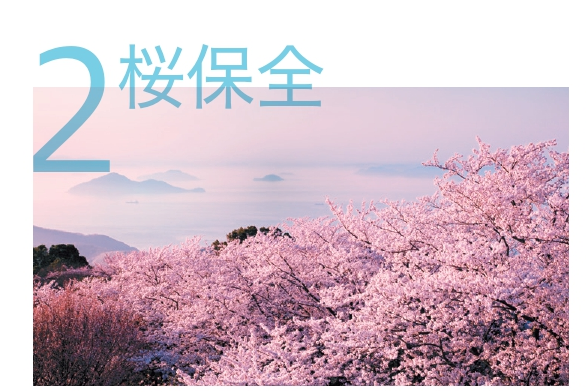 Mt. Shiude circa 2010
Mt. Shiude as it appeared in the New York Times.
2 Cherry Tree Preservation
[Mt. Shiude]
Known as one of Shikoku's best sites for cherry blossom viewing, Mt. Shiude has gorgeous views of the Setouchi, which led to its inclusion in the New York Times in 2019. The site sees about 40,000 visitors each year during the Spring.
Preservation is ongoing to protect the trees for the next generation.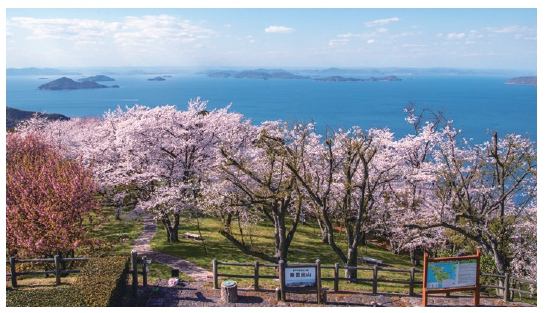 Mt. Shiude in 2021
The trees have been damaged by age, disease, and storms.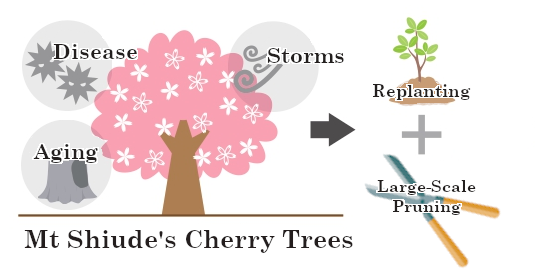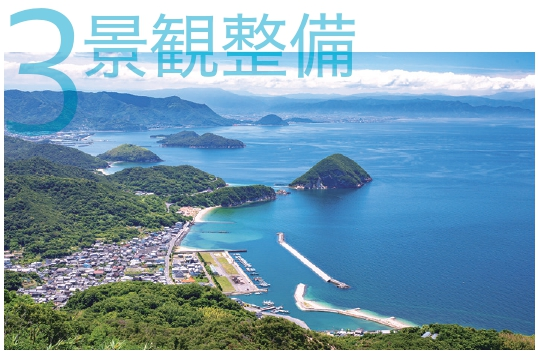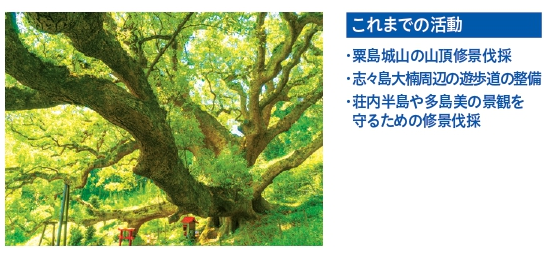 3 Conservation
Current efforts include:
・Landscaping of the lookout point on the Mt. Jonoyama summit on Awashima Island.
・Cleaning and maintaining the trail to Okusu on Shishijima Island.
・General conservation of the Shonai Peninsula and views of the islands in the Seto Inland Sea.