What is Mt. Shiude?
June 2, 2023 The Archaeological Museum will be closed due to the heavy rain flood warning.

Located on the Shonai Peninsula in Mitoyo, Kagawa, Mt. Shiude rewards those who travel off the beaten path.
Walk along the mountaintop path to the observation deck, where breathtaking views of the island-dotted
Seto Inland Sea spread before you and the outline of mainland Japan beckons in the distance.
Drenched in cherry blossoms during the Spring and dotted with hydrangeas in the Summer,
Mt. Shiude offers ever-changing scenery that delights year-round.
A Name with Legendary Origins
Mt. Shiude's name means "the mountain where purple clouds emerge" and originates from the Legend of Urashima Taro, a popular Japanese folktale. Many people believe that the legend took place on and around the Shonai Peninsula.
According to the story, Urashima Taro was a fisherman who saved a turtle. In return, the turtle carried him to a palace below the sea where he was entertained by a beautiful princess. Eventually, growing homesick, he told the princess of his desire to return to his home, so she sent him back after gifting him with a treasure box and a warning him that he must never open it. Urashima Taro returned to his village to find that many years had passed. Forgetting the princess's instructions, he opened the treasure box -allowing a cloud of smoke to escape- and found himself transformed into an old man.
It's said that when Urashima Taro opened the treasure box, the escaping smoke formed purple clouds which hung over the mountain that is now Mt. Shiude, giving it this name.
Recognized around the world
for unforgettable views and natural beauty.
Whatever the season, Mt. Shiude
reveals the splendor of the Setouchi.
Spring: Blossoms Frame the Seto Inland Sea
Summer: Gorgeous Blossoms Line Walking Trails
What to See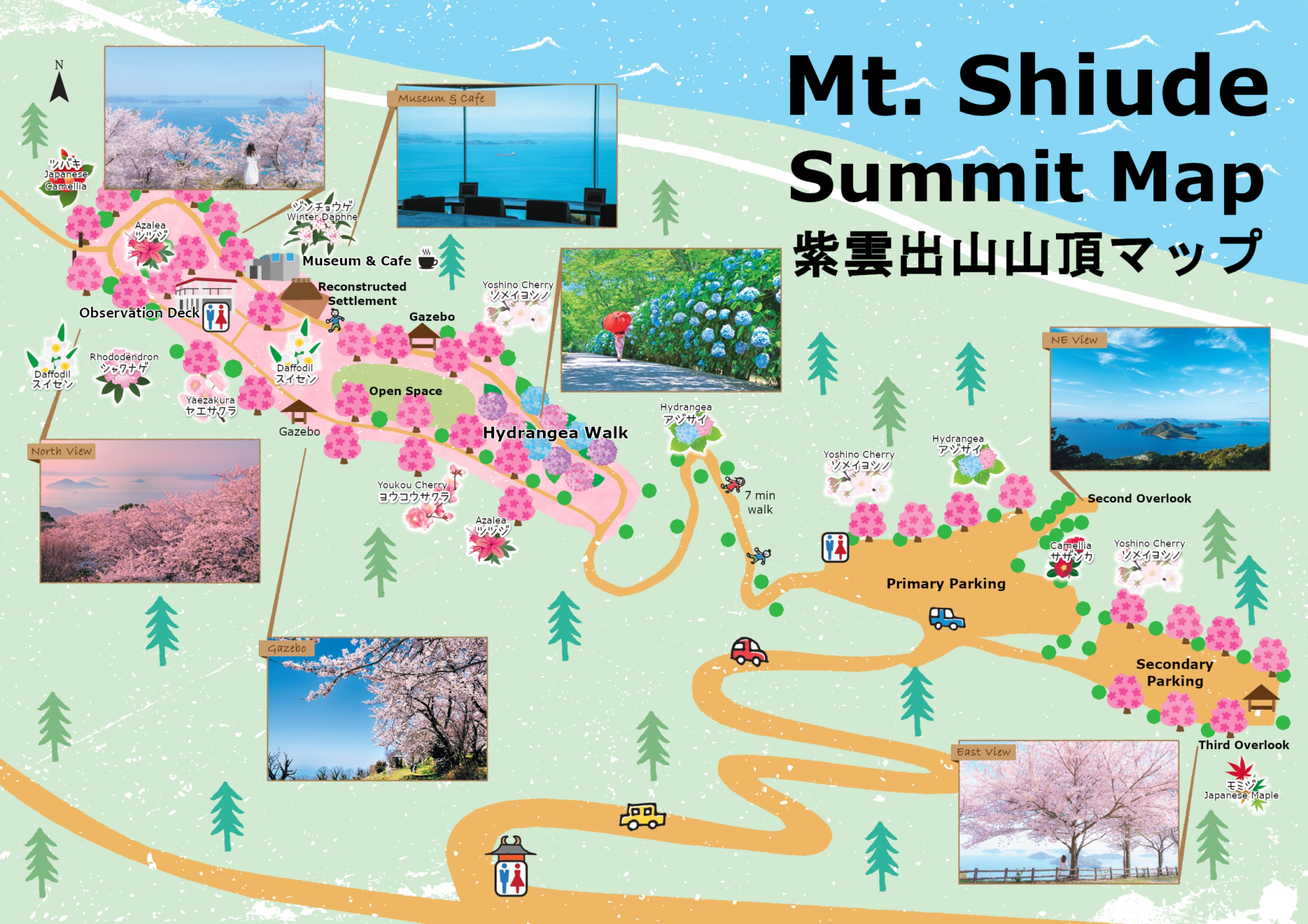 Summit Observation Deck
At 352 meters above sea level, the observation deck atop Mt. Shiude affords a beautiful view of numerous islands dotting the sea to the East and the comparatively empty sea to the West with mainland Japan visible in the distance.
Museum and Cafe

The Archaeological Museum displays ancient earthenware and stoneware items excavated on Mt. Shiude dating back over 2000 years. Inside the museum's cafe, grab a drink, or just relax at the counter where the expanse of the inland sea unfolds below you. [Address] 451-1 Ohama Otsu, Takuma-cho, Mitoyo, Kagawa (香川県三豊市詫間町大浜乙451-1) [Phone] 0875-84-7896 (Jpn Only) [Hours] 9;30am-5;00pm (June-Aug: 9:30-6:00, Dec-Feb: 9:30-4:00) [Closed] Tuesdays (Wednesday instead if Tuesday is a holiday) and 12/29-1/3
Early Settlement
Reconstruction

Archaeological evidence of a settlement from the Yayoi period dating back 2000 years has been found on the summit of Mt. Shiude. Stone arrowheads, spearheads, and axeheads have been unearthed, as well as the remains of a pillar believed to have been about 5 meters (16.4 feet) long. It is speculated that the people of this settlement used their vantage point to keep an eye on maritime traffic.
Matchmaking Clam Shells

It is said that these charms bring happiness when the shells are put together. Many couples write their wishes on the shells and tie their charm to a nearby tree! (Currently sold out)
Second Overlook
Located just off the primary parking lot. Get a gorgeous view of Awashima and other islands to the East.
Third Overlook
Mt. Shiude's best-kept sakura secret! Enjoy cherry blossoms set against a clear view of the islands of the Setouchi.
Directions to Mt. Shiude
Mitoyo Community Bus: ≫Timetable

Tour Buses:
No Entry by Large Buses

The road up Mt. Shiude is narrow and has tight turns that cannot accomodate large buses.
Therefore, large buses are prohibited from entering the Mt. Shiude trailhead.
Tour companies or large groups should come via medium bus or smaller.
Public Transportation


Car
[Address] 451-1 Ohama, Takuma-cho, Mitoyo, Kagawa (香川県三豊市詫間町大浜451-1) 
[Phone] 0875-84-7896(Mt. Shiude Museum and Cafe)

Travel by Car for the Best Experience!

Mitoyo (and much of Shikoku in general) is rural; trains and buses run infrequently. Visitors holding a driver's license valid in Japan should travel by car for the quickest and most comfortable visit.
Warnings
(1)Due to its status as a national park, open flames are not permitted anywhere on Mt. Shiude. This includes- but is not limited to -barbeques and fireworks.
(2)During Sakura Season, Mt. Shiude is considered to be an event space, and thus drone photography is not permitted without special permission. Press affiliates should contact the Mitoyo Tourism and Exchange Authority (0875-56-5880 or info@mitoyo.org) for permission in advance.