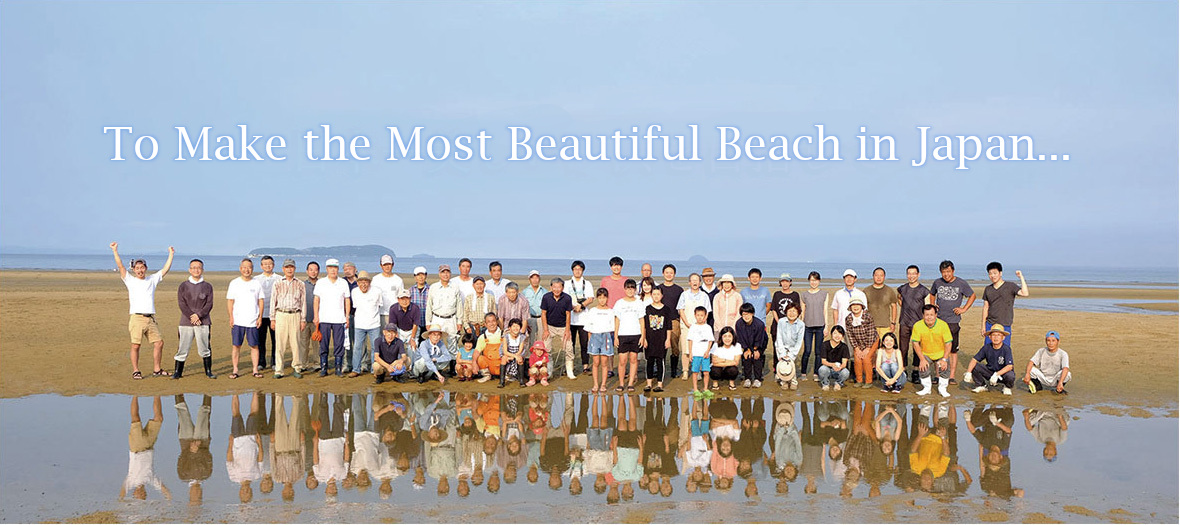 Protecting the beach for more than 25 years
The Chichibu Committee (chichibunokai) was founded in 1995.
What was at first just 7 members has now grown to over 100,
gathering on the first Sunday of each month to clean and protect Chichibugahama Beach.

▲Ever the perfect site for breathtaking sunsets

▲For years it rarely saw more than a few visitors each day

▲In 2017 its beauty was shared online

▲Now Chichibugahama welcomes over 30,000 visitors a month
Behind the scenes, the Chichibu Committee has been keeping the beach clean and presentable for a quarter of a century.

▲The group holds beach cleanings on the first Sunday of each month

▲A familiar sight to locals
"How could they fill in such a beautiful beach..?"

▲Chichibugahama Beach in 1995

▲With nowhere else to go, garbage in the Setouchi washes ashore
The mid-90s saw talk of filling in Chichibugahama Beach for development.

▲"Why Destroy Irreplacable Tidal Flats" a newspaper from the time describes plans to develop Chichibugahama
For Our Children, and Our Children's Children

▲Cleanings began as a "vague resistance" to development plans

▲Membership expanded as the sentiment spread

▲Eventually becoming a single-minded determination to protect the beach

▲Continuing through the hottest summer and coldest winter days

▲"Robbed of Pleasant Swimming by Tidal Flats" (left)
"Developing Chichibugahama Beach" (right)
Development plans were revived multiple times


▲Maekawa Hiroshi, the Chichibu Committee's first chairperson (center)


▲Eventually the plans were abandoned, outlasted by that "vague resistance"

▲Now, local elementary schools assist in cleanings

▲Membership has expanded to over 100, young and old alike

▲The group collects donations

▲And has coffee and conversation after each cleaning

▲This beautiful setting

▲has become beloved by many from around Japan and the world
"At last, everyone understands the value of this beach."
(left to right)Mr. Shiota, Mr. Narita, and Mr. Suga, members of the Chichibu Committee
With the beach safe from development and bustling with activity, the Chichibu Committee still has a lot to keep them busy.

▲Mr. Kawata comes to beach everyday to clean and peoplewatch.
"I'm happy to hear the joyful voices of the visitors and watch the sunset."

▲"We've only been continuing to do what we can." -Mr. Narita (chairperson)

▲On busy days, members help direct traffic

▲And give guidance to first-time visitors

▲They teach local children about seaside plant life

▲The group has been recognized by the Minister of the Environment for their ongoing conservation efforts

the group is delighted to share the fruits of their labors with the world.
The Future of Chichibugahama

▲Updated beachside pavillions

▲New facilities and refreshment options
New Cafes and Restaurants

Italian-style Seafood

Zero-waste Coffee

Authentic Hamburgers

Rotating Menus

Sunset Mocktails

Local favorites
Revitalization of the Surrounding Area

Stylish Vacation Rentals


Make-your-own Tofu Cafe

Antique Shop

Seaside Wedding Venue
"What we all have in common is our desire to protect Chichibugahama.
"We've also begun trying to go zero waste."
Posted with the input and supervision of the Chichibu Committee.
Photos courtesy of:
The Chichibu Committee, Sugagumi Llc.,
Ono Manabu, Fujioka Yu, MATCHA Inc.,
Finestra Llc., Chainon,
Iwata Takashi, Yabumoto Yukako, CHEBI, and the Mitoyo Tourism and Exchange Authority