Access to Hang Glider Base
Close to Chichibugahama, the Sky Mirror Beach, is the Shippozan mountain range. At the top is a former hang glider launch point, now perfect for taking beautiful panoramic photos.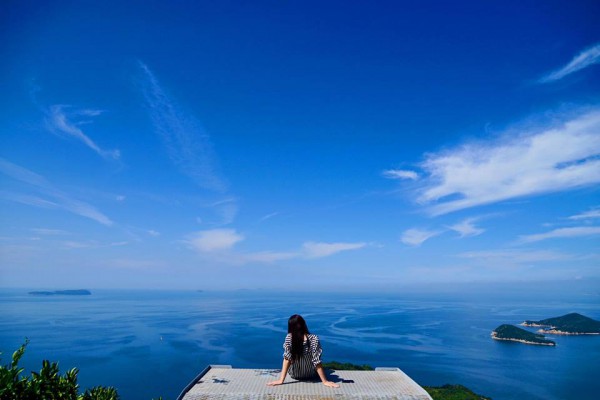 Access
Address: Hang Glider Base, Hiroe Chiku, Nio-cho, Mitoyo, Kagawa
The road up to Hang Glider Base is extremely narrow, steep, and has very few guard rails! Visitors, particularly those who are not accustomed to driving in Japan, should not drive up to Hang Glider Base!
★The road up is closed to all non-local vehicles October through December, due to the local mikan orange harvest. Please respect the local farmers and hike up to the mountaintop if you visit during these months.
Parking
Hikers should park at the Shippozan Tunnel Pocket Parking lot (482-1 Nio, Nio-cho, Mitoyo)
Parking in this lot is free. It is located to the right almost immediately after exiting the Shippozan Tunnel on the ocean-facing side of the mountains.
By car it's:
・3 minutes from Chichibugahama Beach
・15 minutes from the Sanuki-Toyonaka exit of the Takamatsu Expressway
・25 minutes from the Mitoyo-Tossaka exit of the Takamatsu Expressway
Hiking Directions
The hike from the parking lot to the mountain top takes about 50 minutes one way.
Click on the images to see a larger version
↑Park here!
Cross the street and follow the road marked by the black sign with yellow letters.
Follow the roads indicated by the red arrows.
After a few minutes…
You'll reach this intersection. Take the right path that leads up.
A bit further along…
A great (but slightly dangerous) view!
Take the path to the right.
Just a bit further!
On clear days you can see all the way to the mainland!
Originally this platform was for hang gliding.
Try jumping (carefully!!) on the platform
and angle the camera to hide it!
Warning
Hang Glider Base is private property; please be respectful.
Photography from the edge of the platform (where it slopes downward) is not permitted.
Neither Hang Glider Base nor Mitoyo Tourism and Exchange Authority is liable for any injuries or accidents.
Photograph at your own risk.