Awashima Island
Please wait while you are redirected.

Essential Travel Only Until Further Notice
The number of COVID-19 cases has been rapidly increasing throughout Japan, and Kagawa Prefecture has raised the prefectural alert to the highest level. The majority of Awashima residents are elderly, and there are no medical facilities on the island. At present, only residents and essential services may travel to Awashima Island. Anyone visiting to provide essential services should take precautions against transmission, such as wearing a mask, etc.
In 15 minutes
you could be there, enjoying island time
on a island filled with history and art
where time moves differently.

ゆったりとした時の流れを楽しむ、そんな、こころうるおう旅にでかけよう。

▲A cafe by the sea

▲A simple island lifestyle

▲A home for letters without a recipient

▲A wide expanse of the bluest sea.
Awashima Island Destinations
漂流郵便局
Missing Post Office

After serving as the island's post office for 50 years, this building found new life as an art installation in 2010. Inside, letters from around the world that can't be delivered are displayed.

Address: Awashima Island 1317-2 Takuma-cho, Mitoyo
Hours: Closed until further notice due to COVID-19.
Admission: Free
Artist: KUBOTA Saya
Photos courtesy of Yoshinobu Motoda

▲The artist, Ms. Kubota and the postmaster, Mr. Tanaka.
武内商店
Takeuchi General Store

Beverages, snacks, and anything else you could need are sold in the island's only store.

Phone: 0875-84-7015
Closed Sunday
粟島海洋記念館
Awashima Maritime Museum

The large, brightly-colored building by the port is the Awashima Maritime Museum. The museum is housed in the original building opened in 1897 as Japan's first maritime school. Now, it displays maritime company flags and other artifacts related to seafaring.

Address: Awashima 1541 Takuma-cho, Mitoyo
Phone: 0875-84-7884
Hours: Closed Aug. 14 – Sept. 12
Admission: Free
Closed Mondays (except holidays), 12/28 – 1/3
Accommodations, a restaurant, tennis courts, and more; Le Port is Awashima's all-in-one stop!

Closed 8/14/21-9/12/21 due to COVID-19.
Address: Awashima 1418-2 Takuma-cho, Mitoyo
Phone: 0875-84-7878
Restaurant Hours: 11:30am – 2:00pm
★Parking for guests is available at Suda Port

Visit their Website (Japanese only)

ル・ポール粟島
Le Port Awashima

▲Check in to a cozy room

▲Try the cabins for your group outing!
西浜
Nishihama Beach

Walk 15 minutes from Awashima Port to reach this photogenic beach, perfectly positioned to watch seaside sunsets.
The sound of the waves makes for the perfect end to a vacation day.
アートキャンバスあわしま
Art Canvas Awashima

This traditional family home turned guesthouse is not just a place to stay, it's a work of art. Many artists who have been invited to Awashima have contributed pieces.

Address: Awashima 1430-7 Takuma-cho, Mitoyo
(5 minutes from Awashima Port)
Phone: 080-7201-8369
海ほたる
Sea Fireflies

Sea fireflies are actually a type of bioluminescent plankton. Naturally, they are small sparks of light in the sea, but when prepared by Le Port Awashima for its guests (from June – Sept.), they cover the shore in glittering light.
*Sea fireflies do not naturally appear as in these pictures.

▲Thousands of sea fireflies light up the shore
あわろは食堂
Awaloha Cafe

Continue past the Maritime Museum to reach Awaloha cafe, a delicious lunchtime stop. They use ingredients sourced from Awashima Island itself, and have delicious seasonal parfaits and smoothies!

Address: Awashima 1619 Takuma-cho, Mitoyo (6 mins. from the port)
Open: Friday – Sunday, Holidays May through October
Hours: 11:00am – 5:00 pm
Phone: 090-3181-8360
城山
Mt. Jonoyama

At 222 meters tall, Mt. Jonoyama is the highest point on the island. Take the approximately 1-hour hike to the top to see a 360-degree panoramic view!
But be careful, with lots of stairs and steep slopes, this hike shouldn't be undertaken lightly!
梵音寺のタブノキ
The Ancient Laurel Tree

Bon-onji Temple is home to a massive laurel tree, standing over 12.5 meters tall. It flowers in May, and grows dark purple fruit in August and September.
To find it, go up the stone stairs on the left of the shrine grounds.
Address: Awashima 1604-1 Takuma-cho, Mitoyo (8 minutes from the port)
馬城八幡神社の鳥居
Maki Hachimanjinja Shrine's Torii Gate

One of several shrines in the area devoted to Hachiman, the god of archery and war. It's best known for its waterside torii gate, which is especially impressive at high tide when the water comes right up to the base. It's said that the gate was placed by the sea because of the ocean's cleansing effect on visitors.
Address: Awashima, Takuma-cho, Mitoyo
(15 minutes from Awashima Port)
Located in the Kami Shinden area of Awashima Island, the locals have filled this garden with flowers and art pieces made from recycled buoys.
See if you can find some of your favorite characters!
★The garden is in a residential area; please act accordingly.

Address: Kami Shinden, Awashima, Takuma-cho, Mitoyo
(3 minutes from Kami Shinden Port. 1 hour from Awashima Port.)

ぶいぶいガーデン
Buoy-Buoy Garden
民宿 ぎんなん
Guesthouse Gin-nan


▲Reserve 3 days in advance for a delicious lunch!
The pride of this guesthouse is their home-cooked meals, which use homegrown vegetables and locally- caught seafood. They only make 5 lunches each day, so be sure to reserve it in advance!

Address: Awashima 2217 Takuma-cho, Mitoyo
(5 min. from Kami Shinden Port)
Phone: 0875-84-6448
Access to Awashima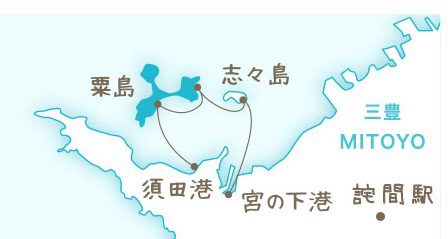 Address
Awashima, Takuma-cho, Mitoyo, Kagawa, Japan
Ferry Info

Suda Port

 → 

Awashima Port

(15 min. one way)
Phone: 0875-83-3204
Ferry Timetable (Japanese only)
Water Taxi
Water Taxi Iseya Phone: 0875-84-6753
(Contact the company directly with questions)
Takuma Line: Runs everyday. Take the bus bound for Nabuto.
Takuma-Mino Line: Runs Monday – Sunday, except holidays. Take the bus bound for Ohama.
Takuma
Station

Bus

20 min.

Suda
Bus Stop

2 min.

Suda Harbor
Udon Airport Bus

Due to the coronavirus, the Udon Airport Shuttle is not currently running.
Route
Takamatsu Airport → Kotohira → Mitoyo City Office → YouMe Town → Chichibugahama Beach → Suda Port
Timetable
Bus Timetable (redirects to the Koto Bus website)
Click Here to see the buses' current location
Fare
Takamatsu Airport ⇔ Mitoyo Area
Adults: ¥2,000
Children: ¥1,000
Travel Time
Takamatsu Airport ⇔ Mitoyo City Office: 75 minutes one-way
Reservations
Reserve through their website
or by phone
Koto Bus Reservation Center: 050-3537-5678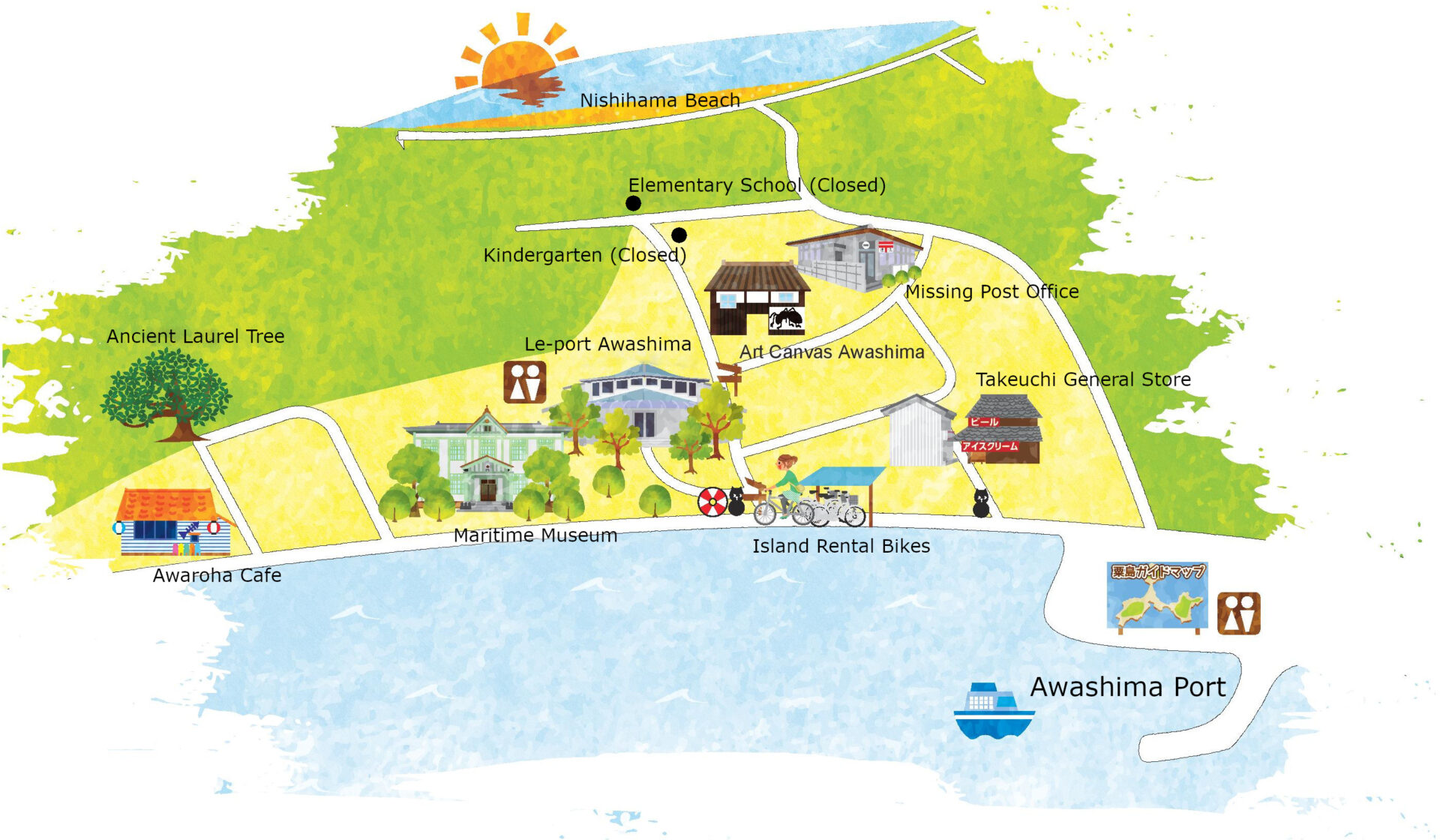 Recommended Courses
Standard Course

Awashima Port

5 min.

Awashima Maritime Museum

5 min.

Missing Post Office

10 min.

Nishihama Beach

15 min.

Awashima Port
Buoy-Buoy Garden Course

Awashima Port

1 hr. walk
30 min. bike

Buoy-Buoy Garden
Overnight Course

Kami Shinden
Port

3 min.

Buoy-Buoy
Garden

2 min.

Guesthouse
Gin-nan
Island Rental Bikes

Rental bikes are available for ¥500/day.
Everything is self-service. Please pay into the mural's mouth.
Location: about halfway between Awashima Port and Le Port Awashima
Contact

Mitoyo Tourism and Exchange Authority
Phone: 0875-56-5880 (Closed Tuesday)
–>