Sakase Lake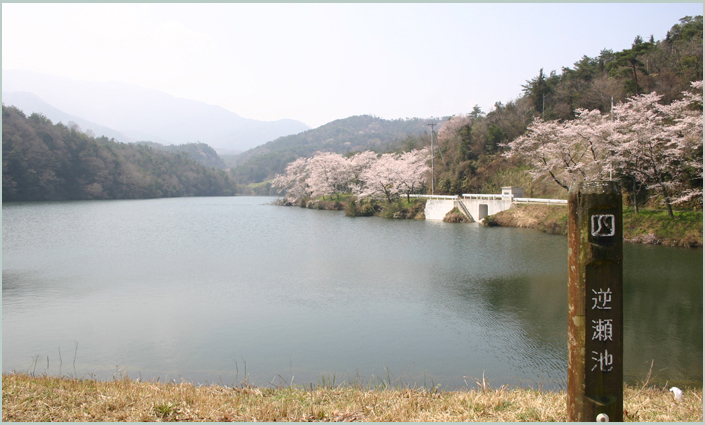 Sakase Lake is one of Kagawa Prefecture's "100 Beautiful Spots," and shows a different beauty during each season. The lake provides water to the central regions, espeically for use in rice cultivation. General repairs and improvements were made to the lake in 1956, allowing it to be used as a reservoir for even greater quantities of water.
Sakase Lake has been renowned for its beauty for many years. It's especially popular in the Spring, when the cherry trees bloom and their flowers are reflected in the still waters of the lake. Two trail heads of the Shikokunomichi Nature Trail are located near the lake shore, and are frequented by locals.
The Legend of the Dragon God
According to legend, there has been a lake where Sakase Lake is now for as long as anyone can remember. Above, in a place called Shotai, lived a dragon god. Every year in May, the dragon god would come down and play in the waters of the lake. Once it had finished playing and returned home, the locals would open the sluice gates and use the water to flood their rice fields.
One year, tired from playing in the lake, the dragon god rested in the shade of tree instead of returning to Shotai. The local people, thinking the dragon god had already gone home, opened the sluices and flooded their fields. Seeing this, the dragon god was enraged. He caused the remaining water in the lake and all the water flowing in from the river to reverse direction and flow upstream and be sucked into Shotai.
This is why the lake is named "Sakase," which means "reversed current." Additionally, there is a festival every year so that the dragon god will allow the locals to have as much water as they need.
(Information taken from the Mitoyo City homepage.)
| | |
| --- | --- |
| Address | 2300 Kochi, Yamamoto-cho, Mitoyo, Kagawa |
| Access | 20 Minutes from the Sanuki-Toyonaka exit of the Takamatsu Expressway by car. Take route 6 South from the Tsuji intersection with National Route 377. It's about 5 minutes past Kochi Elementary. |
Copyright © 2018 三豊市観光交流局. All Rights Reserved.