Shishijima Island




Essential Travel Only Until Further Notice
The number of COVID-19 cases has been rapidly increasing throughout Japan, and Kagawa Prefecture has raised the prefectural alert to the highest level. The majority of Shishijima residents are elderly, and there are no medical facilities on the island. At present, only residents and essential services may travel to Shishijima Island. Anyone visiting to provide essential services should take precautions against transmission, such as wearing a mask, etc.
20 minutes from shore
lies an island where only 20 people live
watched over by its most ancient resident,
the great camphor tree, Okusu.

▲A sweeping view of the Setouchi

▲Okusu, the 1200 year-old camphor tree

▲Formerly know as "Flower Island"

▲Skyview Meadow
Shishijima Island Destinations
樹齢1200年の大楠
Okusu

Okusu lives in the heart of Shishijima Island. This 1200 year-old camphor tree watches over its home with a silent mysticism. Be sure to wear your hiking shoes, as the path to visit is steep, and come in mid-July to see Okusu surrounded by lilies.
Located a 20-minute walk from Shishijima Port.

▲Follow the signs

▲Okusu itself
楠の倉展望台
Camphor Overlook

Located just a few moments' hike West from Okusu is this photogenic overlook. Take a break in the hand-constructed wooden pavilion, where the scenery is as refreshing as the breeze.

▲Just a short hike from Okusu…
志々島の休憩処 くすくす
Kusu-Kusu Cafe

Located inside a 100-year-old family home is the island's only rest spot. This quaint little house is great for an ice cream or coffee break. They also have original souvenirs of the island!

Address: Shishijima Island 397 Takuma-cho, Mitoyo
Phone: 090-1598-5885
Hours: 10:00 – 11:30, 14:30 – 15:50
天空の花畑
Skyview Meadow

In the past, Shishijima Island was known as "Flower
Island" for its abundant fields of flowers. The residents
have recently begun to revive this name, and the first step
is Skyview Meadow.

Blooming Period: Sweet Williams: late April – late June Moss Phlox: late
March – late April Marigolds: early April – early May Hydrangeas: late
May – mid-June
15 minutes from Shishijima Port

▲Marigolds

▲Sweet Williams
Goats: Idols of the Island

Some of the cutest and most popular residents of the island. They're normally near the port, but sometimes they're out in the fields, doing their job by eating the grass. Ask at Kusu-Kusu for help finding them.
Shishijima Island's only accommodations are a traditional-style house surrounded by nature where guests are lulled to sleep by the sounds of the outdoors. Your stay includes plenty of cooking tools, but be sure to bring your ingredients and amenities, as there aren't any stores on the island!
■Reserve your stay!
Address: Shishijima Island 328 Takuma-cho, Mitoyo
Phone: 0875-83-5740 (Shishijima Promotions)

ゲストハウス きんせんか
Guest House Kinsenka
Access Information
Takuma
Station

Bus

20 min.

Takuma
Chosha

Walk

Miyanoshita
Port

20 min.

Shishijima
Port

Take the Takuma line for Nabuto, the Takuma-Mino line for Ohama, or the Takase-Nio line for Ohama
Takase Line: Runs every day, including holidays
Takuma-Mino Line: Runs Monday-Saturday, except holidays
Takase-Nio Line: Runs Monday-Saturday, except holidays
Miyanoshita Port

20 min

Shishijima Port
For additional information/questions, call: 0875-83-3204
★Please buy your ticket(s) from the vending machine on board.
Water Taxi
・Water Taxi Shishijima Promotions LLC Phone: 0875-83-5740

(Please make all inquiries directly to the company.)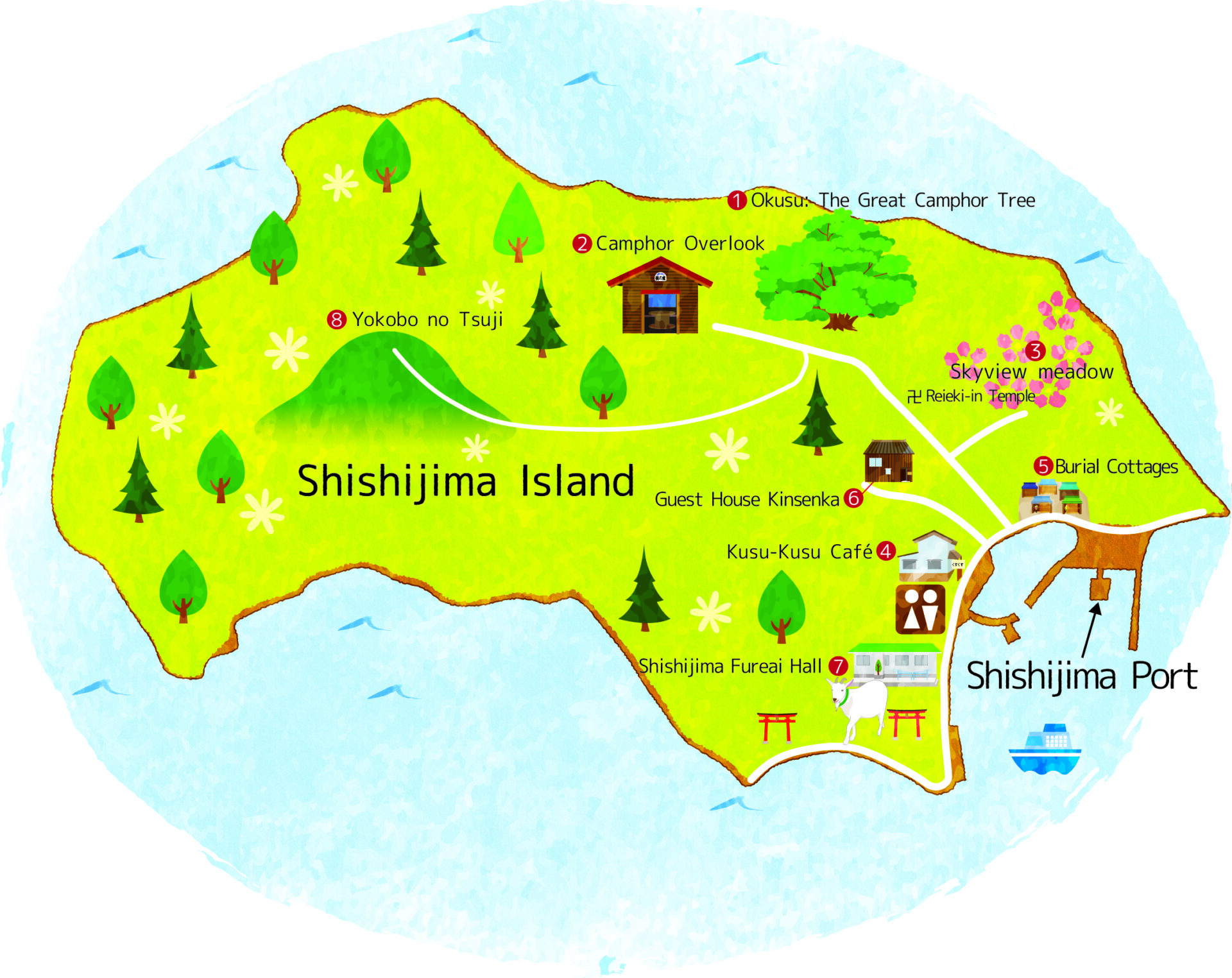 Preparing for Your Visit

○The island has many stairs and narrow paths that cars and bikes cannot fit through.
・Most of the island can only be reached on foot.
・Shishijima Island is not handicap accessible.
・Please wear comfortable clothes and shoes.
○There are no shops on the island. We recommend:
・a hand towel (for wiping off sweat)
・drinks and snacks
○In Summer, the island is home to an especially large insect population. We recommend:
・Bug repellant
・Long sleeves and long pants
Recommended Courses
Standard Course Estimated Time: 2½ Hours
Shishijima
Port

1 min.

Kusu-Kusu
Cafe

20 min.

Okusu

2 min.

Camphor
Overlook

20 min.

Goats

3 min.

Kusu-Kusu
Cafe

1 min.

Shishijima
Port
Shishijima
Port

1 min.

Kusu-Kusu
Cafe

20 min.

Okusu

2 min.

Camphor
Overlook

20 min.

Skyview
Meadow

20 min.

Goats

3 min.

Kusu-Kusu
Cafe

1 min.

Shishijima
Port
Contact

Mitoyo Tourism and Exchange Authority
Phone: 0875-56-5880 (Closed Tuesdays)